About Us
Super Chinese Kitchen is a Chinese takeaway in Cardiff. Why don't you try our Kung Po Beef or Barbecued Spare Ribs?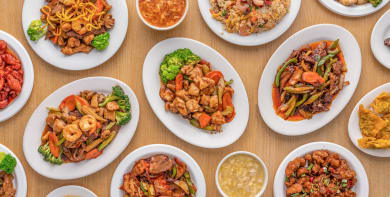 Reviews
115 reviews
alun
"Meal o k . but the prawn crackers were stale"
01/08/2020
Blair
"5 Stars as always"
31/07/2020
Megan
"Very nice, one of the best Chinese we've had in cardiff, good vegetarian options. Food came early and hot!"
27/07/2020
xan
"Food was piping hot and delicious. Quality of the dishes and sauces were great. Will order again."
22/07/2020
Menu
Chicken Balls (5) with Chips
£3.80
Small Sausage (2) with Chips
£3.20
Chicken Wings (6) with Chips
£3.50
Chicken Nuggets with Chips
£3.40
Super Chinese Kitchen Fried Rice + Chips
With any sauce (with beef, chicken, pork, prawn)
£6.50
Chicken Balls (4), Rice & Chips with Sauce
£5.20
Chicken Balls (4), Noodles & Chips with Sauce
£5.30
Chicken Balls (4), Noodles & Rice with Sauce
£5.50
House Special Thai Red Curry
Hot
£5.90
Chicken Thai Red Curry
Hot
£5.30
Roast Pork Thai Red Curry
Hot
£5.30
King Prawn Thai Red Curry
Hot
£5.70
Mixed Vegetable Thai Red Curry
Hot
Suitable for vegetarians
£4.40
Mushroom Thai Red Curry
Hot
Suitable for vegetarians
£4.50
Bean Curd Thai Red Curry
Hot
Suitable for vegetarians
£4.90
House Special Thai Green Curry
Hot
£5.90
Chicken Thai Green Curry
Hot
£5.30
Beef Thai Green Curry
Hot
£5.30
Roast Pork Thai Green Curry
Hot
£5.30
King Prawn Thai Green Curry
Hot
£5.70
Duck Thai Green Curry
Hot
£5.70
Mixed Vegetable Thai Green Curry
Hot
Suitable for vegetarians
£4.40
Mushroom Thai Green Curry
Hot
Suitable for vegetarians
£4.50
Bean Curd Thai Green Curry
Hot
Suitable for vegetarians
£4.90
Mushroom Foo Yung
Suitable for vegetarians
£4.90
Roast Pork Cantonese Style
with bean sprouts & Chinese gravy sauce on top
£5.20
Roast Pork with Mushrooms
£5.20
Roast Pork with Vegetables
£5.20
Roast Pork with Chilli
Hot
£5.20
Roast Pork with Green Pepper in Black Bean Sauce
Hot
£5.20
Roast Pork with Oyster Sauce
£5.20
Pork with Lychee Set Dinner
£8.50
Braised Beef Brisket Set Dinner
Hot
£8.50
Spicy Tofu Set Dinner
Hot
£8.50
Egg with Tomato Set Dinner
£8.50
Aromatic Spare Rib Set Dinner
£8.50
Hong Kong Style Roast Duck Set Dinner
£8.50
Hong Kong Style Char Siu Set Dinner
£8.50
Aromatic Spicy King Prawn Set Dinner
Hot
£8.50
Salt & Pepper King Prawn Set Dinner
Hot
£8.50
Mushroom Curry
Hot
Suitable for vegetarians
£4.90
Mixed Vegetable Curry
Hot
Suitable for vegetarians
£4.80
Mixed Starters
Prawn on toast, spring rolls (suitable for vegetarians), crispy seaweed & spare ribs
£5.50
Special Mixed Starters
Prawn on toast, pork spring rolls, curry samosas, crispy wonton, seaweed & special ribs
£7.00
Crispy Aromatic Duck Quarter
Including pancakes, salad & homemade hoisin sauce
£8.00
Crispy Aromatic Duck Half
Including pancakes, salad & homemade hoisin sauce
£14.50
Crispy Aromatic Duck Whole
Including pancakes, salad & homemade hoisin sauce
£24.70
Smoked Chicken with Garlic
Dry
£5.20
Salt & Pepper King Prawns
Shell off
£5.70
King Prawns on Skewers with Satay Sauce (4)
Contains nuts
£5.80
Chicken on Skewers with Satay Sauce (4)
Contains nuts
£5.20
Salt & Pepper Chicken Skewers
£5.20
Roast Salt & Chilli Chicken Wings
Hot
£4.40
Snack Box
Chicken balls (2), chicken curry samosas (2), chicken wings (2), mini spring rolls, fried rice, chips & sweet & sour sauce
£8.90
House Special Salt & Pepper
Chicken balls (4), chicken wings (4), king prawns (4), chicken skewers (2), spare ribs, chips & sweet & sour sauce
£14.80
Vegetarian Spring Rolls (8)
Suitable for vegetarians
£3.20
Chicken Curry Samosas (4)
£2.80
Vegetarian Lettuce Wrap
Suitable for vegetarians
£4.80
Mixed Vegetable Soup
Suitable for vegetarians
£2.80
Crab Meat & Sweetcorn Soup
£2.80
House Special Fried Rice
With sliced meat on top
£5.60
Mushroom Fried Rice
Suitable for vegetarians
£4.90
Pineapple Fried Rice
Suitable for vegetarians
£4.90
Mixed Vegetable Fried Rice
Suitable for vegetarians
£4.60
Assorted Mixed Meat Fried Rice
£5.90
Roast Duck Cantonese Style
With bean sprouts & Chinese gravy sauce on top
£5.70
Duck with Ginger & Spring Onion
£5.70
Duck with Green Pepper in Black Bean Sauce
Hot
£5.70
Mushroom Chow Mein
Suitable for vegetarians
£5.10
Mixed Vegetable Chow Mein
Suitable for vegetarians
£5.10
Roast Salt & Chilli Spare Ribs
Dry
Hot
£5.70
Beef with Mixed Vegetables
£5.30
Beef with Onions & Garlic Sauce
£5.30
Beef with Ginger & Spring Onion
£5.30
Beef with Green Pepper in Black Bean Sauce
Hot
£5.30
Beef with Satay Sauce
Contains nuts
£5.30
Beef with Black Pepper Sauce
£5.30
Beef with Cashew Nuts
Contains nuts
£5.50
Crispy Beef with Pekinese Sauce
£5.50
Mushroom Omelette
Suitable for vegetarians
£5.10
Roast Chicken Cantonese Style
With bean sprouts & Cantonese gravy sauce on top
£5.20
Chicken with Bamboo Shoots & Water Chestnuts
£5.20
Chicken with Mixed Vegetables
£5.20
Chicken with Tomato Sauce
£5.20
Chicken with Oyster Sauce
£5.20
Chicken with Ginger & Spring Onion
£5.20
Chicken with Green Pepper in Black Bean Sauce
Hot
£5.20
Chicken with Satay Sauce
Contains nuts
£5.20
Chicken with Onions & Garlic Sauce
£5.20
Chicken with Baby Sweetcorn
£5.20
Crispy Chicken Cantonese Style
£5.20
Chicken with Orange Sauce
£5.50
Chicken with Cashew Nuts
Contains nuts
£5.50
Crispy Shredded Chicken
Hot
£5.40
Mixed Vegetables with Green Pepper
In black bean sauce
Hot
Suitable for vegetarians
£4.40
Mixed Vegetables with Oyster Sauce
Suitable for vegetarians
£4.40
Mixed Vegetables with Cashew Nuts
Contains nuts
Suitable for vegetarians
£4.40
Sweet & Sour Mixed Vegetables
Suitable for vegetarians
£4.40
Fried Mushrooms
Suitable for vegetarians
£3.70
Fried Bean Sprouts
Suitable for vegetarians
£3.40
Fried Bamboo Shoots & Water Chestnuts
Suitable for vegetarians
£3.50
Fried Onions
Suitable for vegetarians
£3.50
Broccoli with Garlic
Suitable for vegetarians
£3.70
Bean Curd with Green Pepper in Black Bean Sauce
Hot
Suitable for vegetarians
£4.40
Szechuan Bean Curd
Hot
Suitable for vegetarians
£4.40
Bean Curd with Mixed Vegetables
Suitable for vegetarians
£4.40
Bean Curd with Chilli Sauce
Hot
Suitable for vegetarians
£4.40
Kung Po Bean Curd
Hot
Suitable for vegetarians
£4.40
King Prawn with Mushrooms
£5.70
King Prawns with Mixed Vegetables
£5.70
King Prawns with Oyster Sauce
£5.70
King Prawns with Green Pepper
In black bean sauce
Hot
£5.70
King Prawns with Ginger & Spring Onion
£5.70
King Prawns with Satay Sauce
Contains nuts
£5.70
King Prawns with Cashew Nuts
Contains nuts
£5.70
King Prawns with Yellow Bean Sauce
£5.70
King Prawns with Tomato Sauce
£5.70
Singapore Rice Noodles
Hot
£5.50
House Special Crispy Noodles
£6.00
King Prawn Crispy Noodles
£6.00
Vegetarian Crispy Noodles
Suitable for vegetarians
£5.20
Sweet & Sour Chicken Cantonese Style
£5.30
Sweet & Sour Pork Cantonese Style
£5.30
Sweet & Sour King Prawn Cantonese Style
£5.70
Sweet & Sour Chicken Balls in Batter
£5.40
Sweet & Sour Pork Balls in Batter
£5.30
Sweet & Sour King Prawns in Batter
£5.90
King Prawns in Batter with Lemon
£5.90
For 1 Person
Chicken with mushrooms
Sweet & sour chicken balls (5)
Egg fried rice
£9.40
For 2 Persons
Starters (curry samosas, crispy wonton, seaweed & spring rolls)
Roast pork curry (hot)
Sweet & sour chicken (Cantonese style)
Beef with chilli & black bean sauce (hot)
Yung chow fried rice (large)
£21.90
For 3 Persons
Starters (curry samosas, crispy wonton, seaweed & spring rolls)
Szechuan roast pork (hot)
Chicken with mushrooms
Spicy shredded crispy beef (hot)
King prawns with chilli sauce (hot)
Yung chow fried rice (1x large, 1x small)
£29.40
For 4 Persons
Starters (curry samosas, crispy wonton, seaweed & spring rolls)
Chicken with lemon sauce
BBQ spare ribs
King prawns with green pepper in black bean sauce (hot)
Beef with satay sauce (contains nuts)
Chicken with chilli sauce (hot)
Yung chow fried rice (2x large)
£35.40
Contact Us
Find Us
120 Clifton Street, Cardiff, CF241LW
We deliver to
CF10, CF11, CF23, CF24, CF3